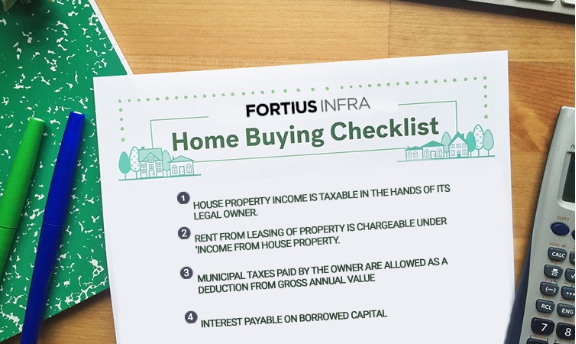 The Income Tax (IT) Act provides for many deductions and concessions to property owners. While many are unaware of the benefits of buying property, there are some who acquire a property with the sole intention of reducing their income tax burden. To avoid pitfalls, one must do due diligence and base their decisions according to the cash flow – immediate and near future, return on investment, renovation costs and other such factors.
What's Chargeable to Tax?
House Property income is taxable in the hands of its legal owner. Rent earned from leasing of house property is chargeable under the head 'Income from House Property'.
While calculating the property income chargeable, one can claim deductions according to the provisions of the IT Act, such as:
Municipal taxes paid by the owner are allowed as a deduction from Gross Annual Value
Then, a standard deduction of a sum equal to 30% of the net annual value
Interest payable on borrowed capital

The interest payable every year has to be calculated separately and claimed as deduction. After claiming the deduction you may incur a loss from house property.

Another kind of income that may pop up for a property owner is capital gain arising at the time of sale. This could be short term or long term. Selling the property after holding for more than 36 months will be treated as Long Term Capital Gain (or loss as the case may be). If you are in the business of sale or purchase of house property, income arising from it is chargeable under the head 'Business Income'. One can claim exemption from long-term capital gains by investing in a new residential house or purchase of bonds of NHAI or REC.

The Fortius Infra Advantage

Fortius Infra makes taking loans easy as we will support you all through the technicalities. For Fortius Waterscape, you can avail loans from top banks such as HDFC, LIC HFL State Bank of India, Axis Bank, ICICI Bank Home Loans, Federal Bank, Tata Capital Home Loans and Indiabulls Home Loans as we have clear title documents for the property and necessary statutory approvals in place.

Fortius Waterscape is at a ready-to-occupy stage, awaiting final occupancy permit. The project is located near Whitefield due to which the home owners and investors alike can expect benefits in terms of no risk and great returns. The Fortius Waterscape community, its proximity to the necessities and the infrastructure around it makes it the ideal choice for end users.

You could book a site visit to explore some of our vasthu compliant 2 & 3 BHK apartments.

Note : Before making any tax related decisions do consult your tax advisor.