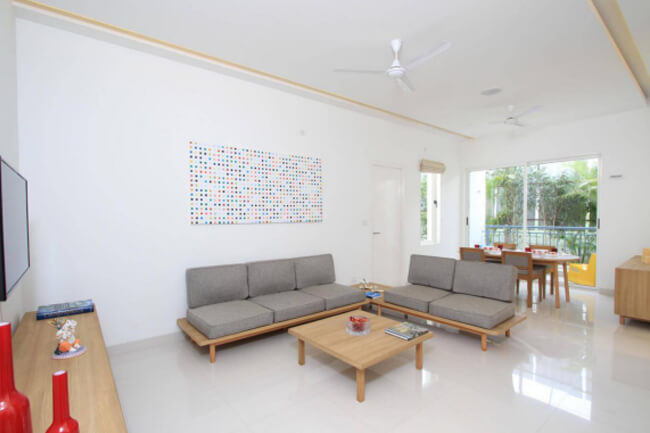 With the wide variety of upholstery available in the market, the prospect of choosing the right one to suit your apartment décor can be a little daunting. You have to wade through a sea of colors, textures, patterns and materials, each with their own pros and cons. Here's a guide to helping you choose the right one for your home:
Durability – Since the upholstery has to face a lot of traffic, it should be of a hard-working material. While cotton is a favorite choice in the tropics, it's a weak fabric and can be used for throw pillows instead. It's better to go with hardy fabrics like polyester, chenille or leather which can bear more wear-and-tear. Printed and textured fabrics tend to wear out on the spots where you sit, so choose according to the use of the fabric.
Pattern – Choose patterned upholstery that enhances the geometry of your furniture as well as the size of the room. Bold patterns look great in large rooms while miniature patterns are better for smaller rooms. While furniture with clean straight lines look good with geometric patterned upholstery, floral patterns look better on round-edged sofas.
Comfort – Every type of material comes with its own pros and cons. But whichever fabric you settle on, it should be comfortable to curl up on as you watch a movie or relax with family. Your upholstery should compliment your lifestyle, so go with a fabric that is soft and comfortable to touch.
Color – Go with innovative color schemes for your upholstery that will also complement the room's décor. Go with hues that can stay in style for years to come, as re-upholstering isn't very pocket-friendly! Light hues on furniture will make a small room look bigger and vice versa. But if you have small kids or pets, do consider going with colors that won't show up stains easily. And if you are choosing monochromatic upholstery, you can team it up with patterned throw pillows
Style and Texture – Go with a trendy upholstery style that speaks volumes about the room. While silk and velvet look great on traditional furniture in luxurious formal settings, leather upholstery adds class. Linen looks great on modern furniture in casual settings and damask goes well with period furniture.
Maintenance – There is no point in investing in upholstery that will be a headache to maintain and isn't climate friendly. Go with easy-to-maintain fabrics.
There is a number of trendy Fortius Waterscape apartments available at Krishnarajapuram in Bangalore that are simply a delight to furnish. Find more about them here: https://www.fortiuswaterscape.com/.