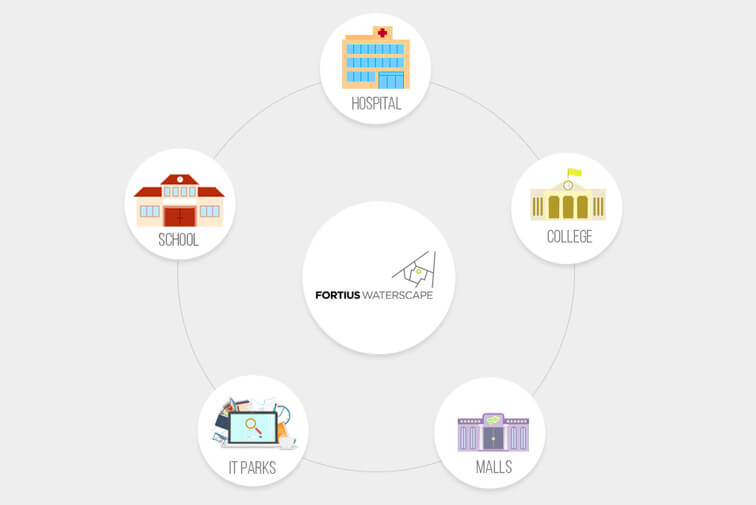 When moving into a new home, you have to consider the distance from home to all necessary conveniences. The distance to your workplace, reputed schools and healthcare facilities will be some of the deciding factors.
Fortius Waterscape is amidst all the necessary conveniences one would expect. Hospitals, malls, educational institutions, Offices and Tech Parks — all are easily accessible from the apartment complex. We are currently ahead of schedule in crafting your homes for a convenient life ahead. Here is a preview to our construction progress .

Office, Schools accessible from Fortius Waterscape
Some of the largest tech parks in Bangalore – ITPL (Whitefield), RMZ Infinity (Old Madras Road), Bagmane Tech Park (C V Raman Nagar), Bagmane World Technology Centre (Mahadevpura) and Manyata Embassy Business Park (Hebbal) – are within close proximity to Fortius Waterscape.
Not just you, but your children too can get home faster! Our project is close to reputed schools & colleges in East Bangalore. Lake Montfort School (2.1 km), Cambridge School (3 km), Gopalan International School (5.6 Km), Vibgyor High (6.3km), Gopalan National School (6.9km), Whitefield Global School (8 km), The New Baldwins International School (8.3 km) and National Public School (11.8 Km) are some of the best schools near Fortius Waterscape. Colleges such as Garden City College (3.2km), Vydehi Medical College (7.6km), MVJ College (9 km) and CMR College (9 km) are also close to Fortius Waterscape.
Metro connectivity is also an upcoming advantage. The KR Puram metro station is slated to be operational in the near future, this opens up Waterscape residents to a more convenient connectivity. Furthermore Fortius Waterscape is connected by wider and less congested roads, that would cut your commute time considerably.
Healthcare within Reach
Additionally, we have some of the best healthcare centers close by; namely — Narayana Multi-Specialty Hospital, Sri Sathya Sai Super Speciality Hospital, MVJ Medical College & Research Hospital and Vydehi Institute of Medical Sciences and Research Center — all within a few kilometer radius from Waterscape.
Conclusion
Beat the morning traffic to work by staying close to Indiranagar and Whitefield. Get to the Bengaluru International Airport easily through the directly accessed less congested Cargo Road. These and many more such location advantages can be yours by choosing Fortius Waterscape.