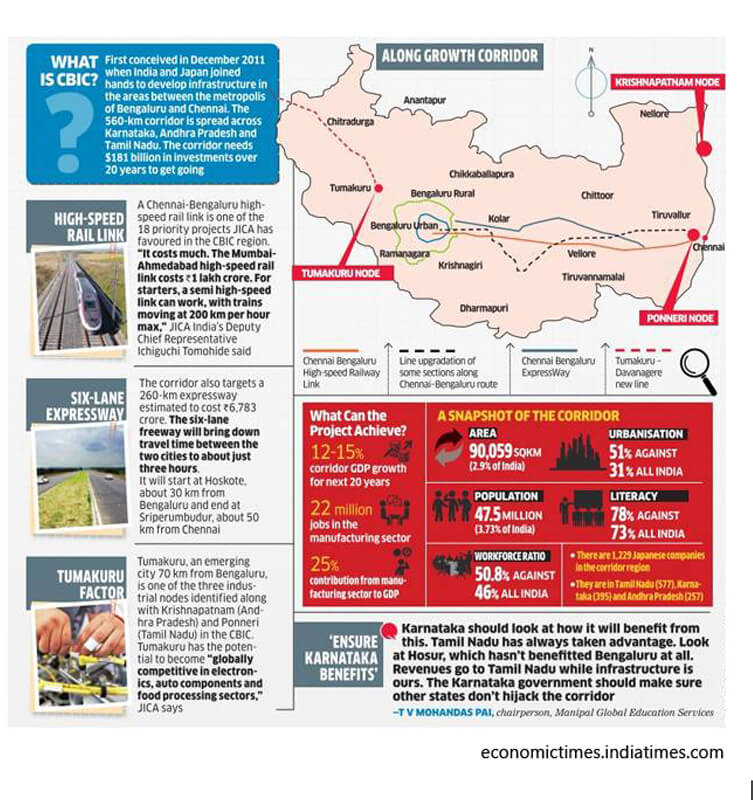 The eastern neighbourhoods of Bangalore have been one of the prime focuses of infrastructural development in the past few years. It has been so mainly due to its proximity to IT hubs and the demand for quality residences. The latest significant development to hit east Bangalore would have to be the proposed Chennai-Bengaluru Six-Lane Expressway, a 260-km stretch between the two metropolises.
One end of the proposed Chennai-Bengaluru Six-Lane Expressway is said to end in east Bangalore; Hoskote in Old Madras Road to be precise. The Expressway and a proposed high-speed rail link, collectively forming the Chennai-Bengaluru Industrial Corridor (CBIC), is expected to achieve around 50% urbanization by the setting up of industries. This ambitious CBIC is slated to begin on March 2017. *
The Chennai-Bengaluru Six-Lane Expressway was conceived when India and Japan joined hands to develop infrastructure in the area between the metropolises of Bengaluru and Chennai. The Japanese interest is understandable as there are 1,229 Japanese companies located in this region.*
There are other factors that will further increase development in east Bangalore. The more known reasons are of course the Namma Metro project and the proposed Phase 2 of the city's Peripheral Ring Road. In the coming years, more realtors and industrialists will take notice of this region's ever rising potential.
The CBIC is predicted to impact OMR and all its neighbourhoods, further increasing its importance in the realty radar. And it makes absolute sense to to invest in realty in this region. This is the time for you to invest in east Bangalore.
Conclusion
Fortius Waterscape, is located on the Old Madras Road (OMR), east Bangalore. We have mentioned the current and foreseeable benefits that east Bangalore would receive from CBIC, with the belief that it would help you get a better perspective about the importance of investing in realty at the right time. If you have any queries on our project or its location advantages, please feel free to contact our customer relation executive at +91 99001 22222/+91 99001 44444 or drop in a mail at sales@fortiusinfra.com