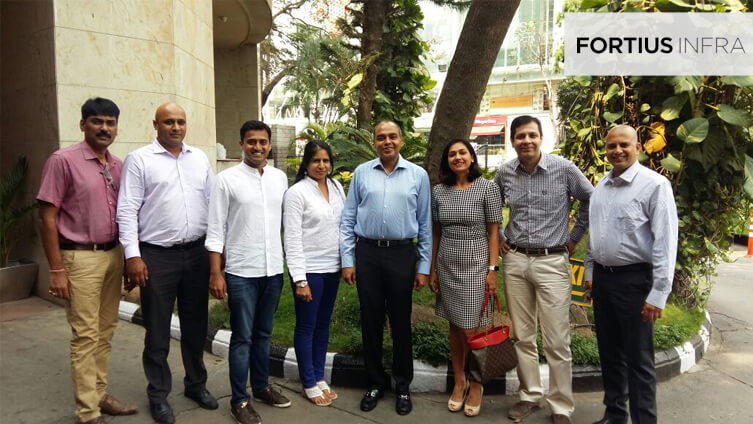 On account of Fortius Infra's 3rd year anniversary, the managing director and promoter Mr. Gopi Krishnan along with his top management team, share their views on the journey so far.
Q. Three years since inception, and the first project is nearing completion, that too before schedule! What is the secret behind this positive anomaly in Indian Real Estate?
Well, Fortius Waterscape, our first project is a year ahead of schedule and that feels great! It is all because of the great team I have, that works day in and out to get the brand going places!
We have always tried to push the envelope in terms of redefining real estate. By getting work done at an earnest pace, we are where we are and I am quite happy to say that our company has been able to make the brand's vision a reality. It is indeed an exciting phase.

Q. Fortius Infra's maiden project is located in East Bangalore, which is considered as an important residential pocket for the IT professionals. Was this a conscious decision, to have your brand's first project in East Bangalore?
The IT corridor, KR Puram and Whitefield – i.e. most of the East Bangalore has showcased much appreciation over the past few years, due to the sheer reason of demand and supply. The potential of East Bangalore was a celebrated fact even ten or twenty years ago, when I was part of the then nascent commercial real estate sector. The success of Fortius Waterscape only prompts us to take a more keen interest in this area.
Q. Your first project is an IGBC Pre-certified Gold Green Home project. Do you think that the customer is more informed about sustainable development and its value?
Definitely. We realized how integral open spaces are to our end user, which is one of the key benefits of any 'green' building. The number of certified 'green' buildings in India has considerably surged and this in itself is an indication of the growing popularity of the 'sustainable development' concept. Plus, preserving biodiversity is a cause that is dear and that is why Fortius Waterscape has more than 80% open space.
Q. The real estate market nowadays is bustling. What would you say are the key differentiators for the brand Fortius Infra?
It has to be the strategic location of the project and keeping the promise of quality. We know how important it is to maintain a great relationship with our key stakeholders, our customers, and the end users. We give them value in terms of location, construction quality, and spacious homes; homes they can grow into. That is why our 2 BHK's are more spacious than the average apartments in the market. The customer's trust, that's what is pivotal to us.
Q. The past two years were seen as the bottom of the real estate scene in India. Yet Fortius Infra as a brand has been able to grow…
That, in fact stands as a testimony. We started in 2013, and the following two years were not so great for real estate anywhere. Even during those times, we were able to sell our product and maintain an ambitious growth plan. Now we have sold close to 2.5 lakh sq. ft. of residential space. Our future plans are to sell close to 1.5 million sq. ft., and the current market scene does not bog us down.
Q. What would you attribute this success to!
To know how we have been able to do so, you just need to look at our product – Fortius Waterscape. The team has systematically maintained transparency and clear-cut paperwork; the customer has always been in the know – right from the pre-launch.
Q. Could you let us in on what are the new launches planned in the near future?
Fortius Infra's next phase is as planned developments in East and North Bangalore. 'Fortius Vivo' is the second phase of Fortius Waterscape, with around 600 apartments. We will also be rolling-out our 30-acre villa project, 'Under the Sun', that has Nandi Hills providing the perfect backdrop.
Q. Fortius Infra Developers seems to be more focused on the residential segment in Bangalore. Any plans to diversify?
Yes, we are positive about our growth prospects.