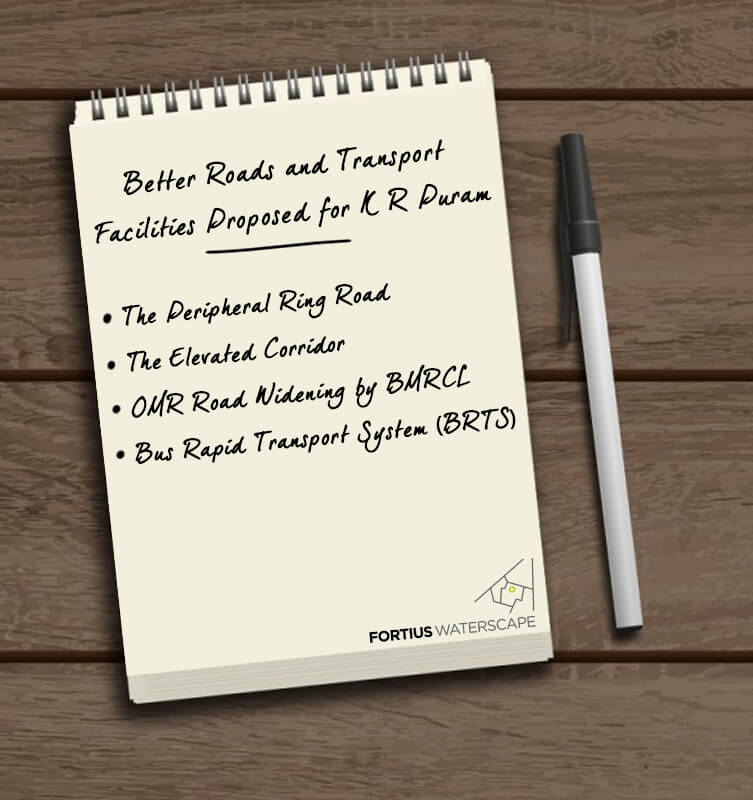 K R Puram is one of the promising areas for investment purpose in Bangalore. There are quite a few infrastructuraldevelopments slated for East Bengaluru that would make this region a great investment opportunity.
According to Knight Frank, an international property consultant, K R Puram is one of the top ten Indian destinations to invest in right now.* It is in this high potential area, on the Old Madras Road (OMR), where you would find our soon-to-be-complete Fortius Waterscape vasthu compliant and lake front apartments.
Connectivity in K R Puram
The stand-out factor for K R Puram and OMR, has got to be its connectivity. It is the focal point for the main roads leading to residential hot-spots like Indiranagar, Whitefield, Outer Ring Road (ORR) neighborhood and Hoskote. The growth of the IT industry and work establishments along OMR and ORR have furthered the importance of K R Puram.
These factor have led to the rise of affordable 2 & 3 BHK apartments in this region.
K R Puram, OMR – Better Roads and Transport Facilities Proposed
With the steady pace at which K R Puram is growing, the need for better and bigger infrastructure has become a need of the hour.
The government plans to fast-track the Peripheral Ring Road and Elevated Corridor projects as part of a comprehensive plan to ease traffic woes. The ambitious Elevated Corridor project would be a great boon for residents in and around K R Puram as it would connect K R Puram to Yeshwanthpur. This would decongest the existing traffic to some extent. As and when it is implemented, this East-West Corridor in Bangalore is proposed to cut commute time between these two regions to 45 minutes (as opposed to the current 3 hour commute time).
Road widening plans in K R Puram has been in the minds of the city planners for quite some time now. The Bangalore Metro Rail Corporation Limited (BMRCL) have taken up the responsibility to speed up the widening, starting with the Baiyappanahalli-K R Puram-Whitefield route, this year. This would greatly benefit a number of offices and schools in East Bangalore
Other measures to decongest the traffic are also being proposed by the government. One such plan is the Bus Rapid Transport System (BRTS) that will connect K R Puram and the Central Silk Board.
Rise of Affordable Apartments in K R Puram
Due to the proximity to tech parks (ITPL, RMZ Infinity, Bagmane Tech Park, Bagmane World Technology Centre and Manyata Embassy Business Park) – the K R Puram stretch has seen a rise in demand for affordable 2 & 3 BHK apartments, commercial establishments, schools and hospitals to cater to the growing population. Owning an apartment in K R Puram could lead to the ideal work-life balance involving the least amount of commute time.
Not just you, but your children too can get home faster! Vasthu compliant apartments of Fortius Waterscape are located on OMR, close to reputed schools & colleges in East Bangalore such as Cambridge School (3 km), Gopalan International School (5.6 km), Vibgyor High (6.3 km), Gopalan National School (6.9 km), Whitefield Global School (8 km), to name a few.
Conclusion
It is quite certain that K R Puram is one of the prime focus areas for infrastructural reforms. Owning a vasthu compliant, lake front apartment in K R Puram which is slated to get better roads and Metro connectivity, is bound to make your home with Fortius Waterscape a great investment in East Bangalore.
Explore the benefits of investing in an apartment in K R Puram with a lake front view, at Fortius Waterscape.Book an affordable apartment before the prices soar!