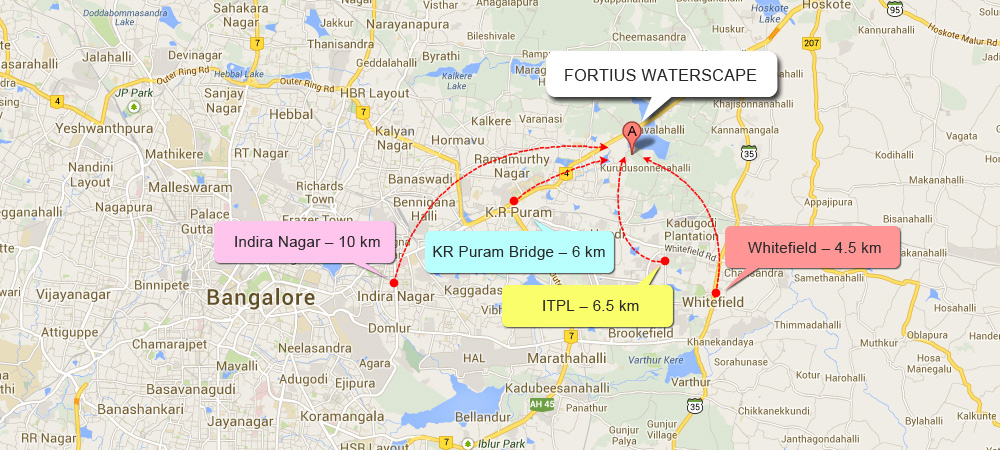 The real estate sector in Bangalore today is considered as one of the safest investment options for investors living in the city or abroad. For a long time Bangalore has been considered a friendly city apt for settling in. Fueling this notion is the growth of affordable and luxury segments in realty, not to mention the attractive resale value homes that are available. And thus for a young investor, choosing an apartment has never been easy.
Though there are several parameters to think about when choosing an apartment for investment, the foremost would have to be its location. Nobody wants to buy an apartment in the middle of nowhere, even if it boasts of numerous amenities. At Fortius Infra Developers we understand this vital point, and Fortius Waterscape's main USP has to be its seamless accessibility to all parts of the city.
Off Old Madras Road
Fortius Warterscape is located by some 500 meters off the Old Madras Road. For decades, Old Madras Road has been a much sought after residential neighborhood in Bangalore for its connectivity and proximity to major institutions and conveniences.
A 6 km drive would take you to KR Puram Bridge (and the railway station) and Whitefield in just under 5 km. With its six lane way, one can literally glide through to several IT parks or the Bangalore International Airport. The airport is closer than ever with the opening up of the less congested Cargo Road. In effect, from Old Madras Road you would never get late for office, or miss a flight.
Currently the closest metro station to the Fortius site is Byappanahalli, by which one can access MG Road and Indiranagar in a matter of minutes. Some of the finest educational institutions, malls, health care facilities and gourmet options in the city are mostly found in Koramangala and Indiranagar area which can be easily accessed thanks to the Outer Ring Road connectivity.
K R Puram Growth Story
According to Knight Frank an International Property Consultant, K R Puram or Krishnarajapuram is going to have a growth of 91% in the property sector by 2017. K R Puram also has one of the main railway stations of the city, making it an ideal hot spot for real estate investment. The presence of numerous educational institutions such as the Garden City College, Cambridge Engineering College/School and various government offices, has made it the center of East Bangalore.
Proximity to Whitefield
Once a sleepy settlement of Bangalore's illustrious Eurasian community, Whitefield has now evolved into a dynamic micro-market; becoming a part of the Greater Bangalore in the late 1990s. Today Whitefield is an address for quality education, sprawling malls and several work establishments.
Currently, the congested K R Puram – Whitefield section is being developed into a quadruple line, providing even better connectivity from Fortius Waterscape.
Closer to Indiranagar
Indiranagar, a bustling neighborhood in Bangalore has always been a place of high real estate value, and hosts some quaint boutique shops and socially vibrant cafes and restaurants in the city. The Namma Metro project and the abundance of city buses in Indiranagar has made it a haven for shoppers and residents alike.
Bangalore International Airport
The Kempegowda International Airport or Bangalore International Airport is the third busiest airport in the country and some of the major international airlines such as British Airways, Air France, Lufthansa, Emirates and Singapore Airlines, to name a few, fly to-and-fro, on an hourly basis from the airport. With regular Bangalore Metropolitan Transport buses plying to the airport and the proposed high speed rail link on its way, it looks like the airport could be reached well within 45 minutes from the site.
Close destinations (in Km) from Fortius Waterscape, off Old Madras Road
MG Road – 13 km
KR Puram Bridge – 6 km
Indiranagar – 10 km
Whitefield – 4.5 km
ITPL – 6.5 km
Manyata Embassy Business Park – 14 km
Bangalore International Airport – 42 km (with direct access through Cargo Road available)
Connected to Convenience
Five-star hotels, malls, hospitals and other conveniences are all within reach from Fortius Waterscape. Some of the best ones in this area are listed as under:
Malls
The major malls located near Fortius Waterscape apartments are the Phoenix Market City, Park Square, Inorbit, Gopalan Signature and the World Market.
Hospitals
Health care is perhaps the most important of all the facilities that the city has to offer. Some of the known hospitals in this neighborhood are the Sir Sathya Sai Super Specialty Hospital, Narayana Multi-Specialty Hospital, Vydehi Institute of Medical Sciences and Research Center and MVJ Medical College and Research Hospital.
Hotels
Some of the 5-star hotels closer to Fortius Waterscape that you can indulge in are the Taj Vivanta, Zuri, Evoma Hotel, Aloft Hotel and the Marriott (around 30-20 minutes away).
Undoubtedly, one of the best things about Fortius Waterscape seems to be its location. It can give you all the luxuries of the city yet offer a home that's a practical getaway.