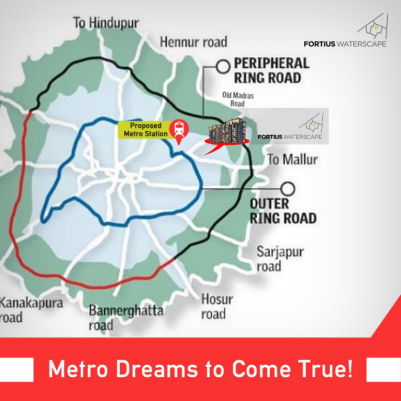 Namma Metro, Bengaluru's much anticipated Metro line project gives hope to residents in KR Puram. The Phase 2A that would connect Silk Board Junction with K R Puram, has been a green signal by the State Government of Karnataka.
Residents in east Bangalore can now look forward to a Metro train solution in three years time according to the latest timelines given by the government. The current chief minister Siddaramaiah said that out of the several de-congestion plans, Metro Rail line was considered the top priority. He further emphasized its long-term economic benefit and the possible reduction of vehicular density on the road.
The huge traffic congestion at the Central Silk Board Junction will be eased when the proposed Metro line between K R Puram and Silk Board is completed. The proposed Rs 4,202 crore Phase 2A of Namma Metro would have 13 stations that will link residential pockets in KR Puram and HSR Layout to Bellandur, Kadubeesanahalli, Marathahalli and Mahadevapura which houses more than 6 major tech parks here.
Namma Metro will Help People Live in Less Congested Micro-Markets
Location and connectivity is one of the key deciding factors that all of us consider while looking for a house – be it as an investment or as an end-user. What is interesting to note is the Metro could offer Bangalore a potential to live in suburban areas and still reap the benefits of connectivity.
Future residents at Fortius Waterscape will not just live in a pristine environment with less congestion but also have easy access to other parts of Bangalore with the Metro.
Property Prices May Increase with the Advent of Metro
The announcement of the Namma Metro has shown a considerable jump in property prices (10-15% ) for both commercial and residential projects within a 1-2 km radius from the stations. The prices are bound to increase once Metro connectivity is more well-established.
When Namma Metro Green Line (North to South connection) and the second phase (Purple line) gets completed – KR Puram, Whitefield, and adjoining areas are expected to see a good jump in property prices.
Fortius Waterscape shares close proximity to the upcoming K R Puram metro station. To further aid metro connectivity, BMTC has announced more metro feeder buses for the Namma Metro Purple line (which will include KR Puram station). Along with the already established public transport system, your Fortius Waterscape apartment will be more easily accessible than ever!
Fortius Waterscape has ready-to-occupy 2 & 3 BHK apartments ideally situated just off the OMR in K R Puram. The Metro line development, coupled with the other infrastructural developments makes for an ideal investment destination for now and the future.
References:
The New Indian Express