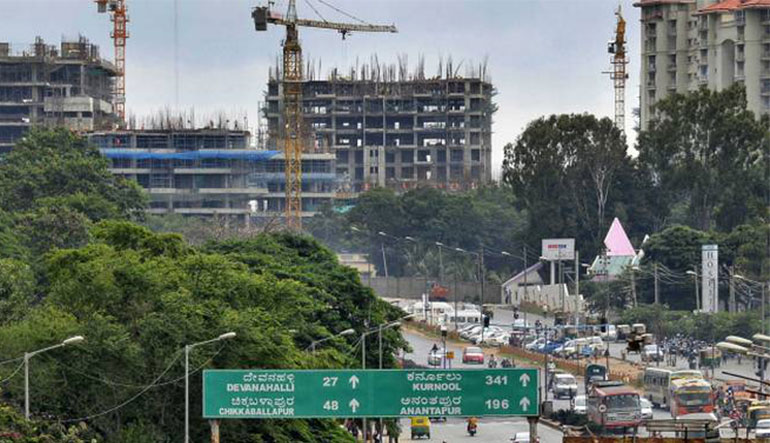 Bangalore has been experiencing tremendous growth over the years, such that the availability and cost of land in the central areas of the city has peaked and growth is now focusing on the Outer Ring Road and beyond. Today, North Bangalore can be identified as the best location for future growth and development. There are locations here that have the potential of becoming self-contained towns of the future with the availability of all facilities and amenities needed for supporting modern lifestyles.
Three specific areas that have been experiencing exponential growth, both in the commercial and residential sectors are Chikballapura, Devanahalli and Nandi Hills.
Plans for Devanahalli
Devanahalli is currently the epicenter of development and is well-connected by the NH7, Peripheral Road as well as the Elevated Expressway connecting the airport to the city. Additionally, there is Namma Metro connection for North Bangalore.
Home to the Kempe Gowda International Airport, there are several prestigious projects in its vicinity such as the
3,000-acre plot featuring the Aerospace Park,
SEZ
Devanahalli Business Park
IT and Hardware Park.
Leading Indian and International giants like Boeing, Airbus and Bombardier are holding prime spots in the Aerospace Park. With great planning and improving infrastructure as well as investments worth millions of dollars being pumped into this area, Devanahalli is the next big destination to watch out for.
It is expected to become the next IT and technology hub. Investment in real estate is also moving at a fast pace with numerous spacious, luxurious villa projects upcoming in this area.
Development in North Bangalore has been a balanced affair so far as can be witnessed by the presence of premier educational institutions, multi-specialty hospitals, numerous real estate projects as well as a number of malls.
The commercial spaces here also border on the inclusion of the latest technologies and designs in keeping with global trends. Places like the Embassy Manyata Tech Park, Doddaballapur industrial area, Financial City are some of the other economic hubs in northern Bangalore. And the trigger for all these developments was the construction of the Kempe Gowda International airport. It has led to development and expansion of several infrastructure initiatives in this region.
Since Devanahalli is becoming a place of interest for investors, the need of the hour is in offering villas that are smart and sustainable. Check out 'Under the Sun' villas built within a 30-acre plot of fruit orchard and you will be charmed for life.