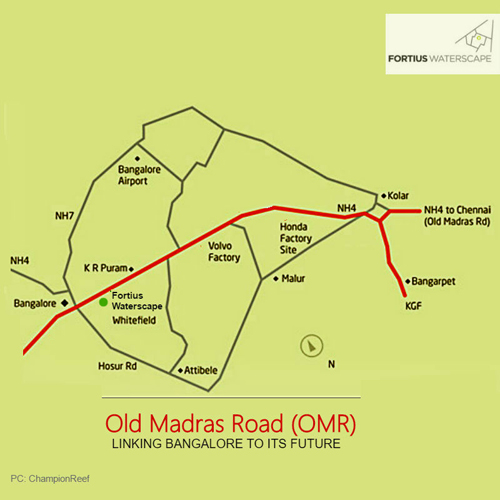 Old Madras Road (OMR) has always been the growth corridor of Bangalore and it is currently on road to appreciation! After all there is a renewed interest by the Karnataka government for the Kolar Gold Fields (KGF). The state government recently announced its ambitious plan to relocate at least 20 lakh of the state capital's population to the new "city".
Urban development minister R Roshan Baig told reporters in a recent conference that the new city will be developed on 11,000 acres of abandoned mining land in Kolar GoldFields (KGF), around 100 km from Bengaluru. The government is currently seeking global tenders to design this urban city. Tenders are being called for setting up desalination plants so that sea water from Mangaluru can be converted to drinking water for the future residents of KGF.
While many are skeptical of the future of this project, the fact remains that the state government is looking at East Bangalore and its outskirts with renewed interest. The OMR which is one of the main roads connecting Bangalore to Kolar Gold Fields (KGF), is bound to get a face-lift with government sponsored infrastructural developments.
Ever since its inauguration in 2003, the Old Madras Road (OMR) has been pivotal in changing the face of Bangalore. It was opened to improve trade and commerce between Bangalore and Madras. The spirit continues to live in a different avatar as OMR houses many MNCs and IT parks.It has also become a coveted residential and commercial area thanks to the availability of a great social infrastructure and the promise of Metro Rail connectivity.
The Old Madras road is also, undoubtedly, one of the most important arterial roads as it connects the city to the NH4 (that links Mumbai, Pune, Bangalore, and Chennai). It will be also better connected to the rest of the city in a few years with the proposed Phase 2 of the Peripheral Ring road comes into being.
Fortius Waterscape, our ready to move in multi-tower project is located just 500m off
the 6-lane Old Madras Road (OMR) growth corridor. You could book a site visit to explore some of remaining few vasthu compliant 2 & 3 BHK apartments.
References: