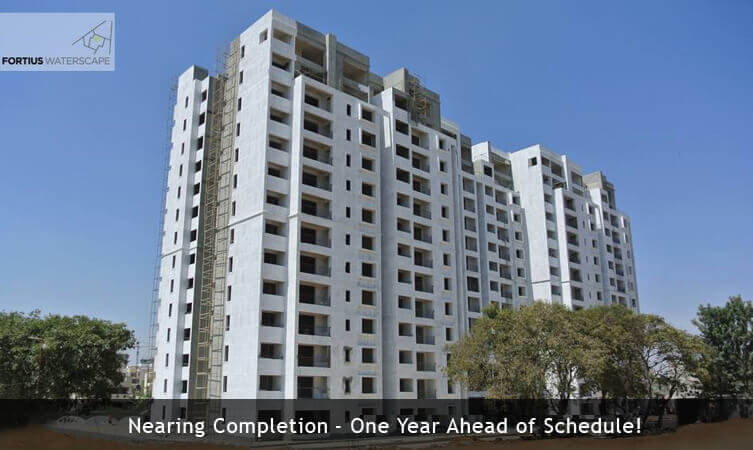 Lately the prices in property have been stagnant in the cities. There has been a general lack of confidence with home buyers in making the decision to buy an apartment. Most of them blame the delays persisting in existing projects and also an expectation of a fall in prices, as the main reasons for their hesitance.
Benefits of Ready-to-Move-In Apartments
With delays in project constructions and many incomplete projects putting a big dent in your home loan, it is better to think about investing or buying a home where constructions are nearing completion (6 months to a year) or have been completed.
By visiting a near complete project you get to know first-hand the quality of construction, the present infrastructure and amenities and maybe even get an idea of who your future neighbour will be! These are after all important factors to consider when buying your future home.
Fortius Waterscape near Whitefield offers spacious 2 & 3 BHK flats and has the advantage of being a project that is nearing completion. We are way ahead of schedule and is set to deliver by June 2016 ! The updates on the construction of Fortius Waterscape can be found here
Why You Should Consider Ready-To-Move-In Apartments at Fortius Waterscape

Budget 2015-2016:
With no significant announcement made at this year's budget, the home buyers' and investors' hopes were dashed. The latest budget proposed to cut service tax on affordable houses of up to 650 sq. ft and on houses built by central and state government. It also proposed the 100% profit deduction on apartments up to 330 sq. ft. in Indian metro cities and 650 sq. ft. in other cities. Thus it is safer to bet on existing projects.
Real Estate Regulator Bill:
There was a general relief for home owners and first time buyers in the affordable segment who were suffering from builder delays. New projects are expected to be launched at reduced prices in comparison to the earlier price ranges. Once the regulator is set up, it would govern the residential and commercial sections.
However it is believed that it would take a long time to rectify many of the present issues. Some industry experts say that it would even take at least a year for the bill to have an impact.
The developers at Fortius Infra are transparent every step of the way. The mandates that have been suggested by the latest Real Estate Bill are already what Fortius considers as their policy. They offer great location and provides spacious 2 & 3 BHK apartments near Whitefield for which the investors can expect great returns too. The infrastructure, the community and proximity to the necessities makes Fortius Waterscape the right choice for end users.
Book a site visit to explore some of our vasthu compliant 2 & 3 BHK apartments.