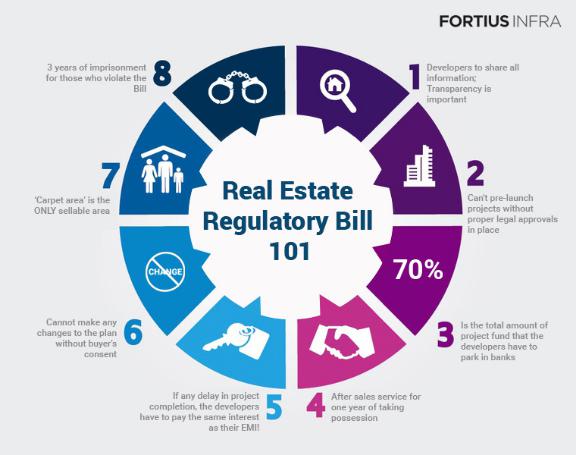 The recent Real Estate Regulator Act comes as a boon to both the consumers and the developers. The law gives authority to the regulator to govern all residential and commercial real estate transactions. Fortius Infra has always supported transparency and we are happy to see that the recent Real Estate Act supports and promotes this.
What are the main points from the Real Estate Regulator Act?
One of the main focuses of the Act has to be the restriction from pre-launching projects that have not yet received the necessary approvals. The law makes it mandatory for the developers to disclose approval status, project layout and time-frame for completion to the regulator and the consumer. We, at Fortius are ahead of time in giving project details, as the law dictates. Right from our pre-launch stage in 2013 our website clearly stated the approvals and the status for all our sanctions.
70% of the project funds should be deposited in a dedicated bank account for ensuring completion of ongoing projects.
Developers now have to sell homes on the basis of 'carpet area' rather than the ambiguous super built-up area. If a project completion is delayed, then the developer is liable to pay the same interest as the EMI the consumers pay to the bank back to the consumer. Our current project has clear layout plans and project walk-through, leaving no room for assumptions.
Within one year of taking possession, the buyer can contact the developer to demand after-sales services if any deficiency is noticed in the project. And the developer is not allowed to make changes to the project plan without the consent of the buyer.
The act also ensures the Real Estate Authorities and Appellate Tribunals would require to dispose of complaints within 60 days.
Fortius Infra Supports the Real Estate Regulatory Act
The main focus of the Real Estate Regulatory Act is to maintain transparency. To Fortius Infra this has always been our benchmark. Fortius Infra believes in an ethical standard of functioning and has always maintained transparency at every level within the organisation. We have always kept our customers well-informed and up-to-date with the necessary documents.
Book a site visit to our ready-to-move-in Fortius Waterscape apartment (near Whitefield, Bangalore) and experience the difference.
References:
http://bit.ly/2g0YfD1
http://bit.ly/1UIKSDR
http://bit.ly/1QgvZYM