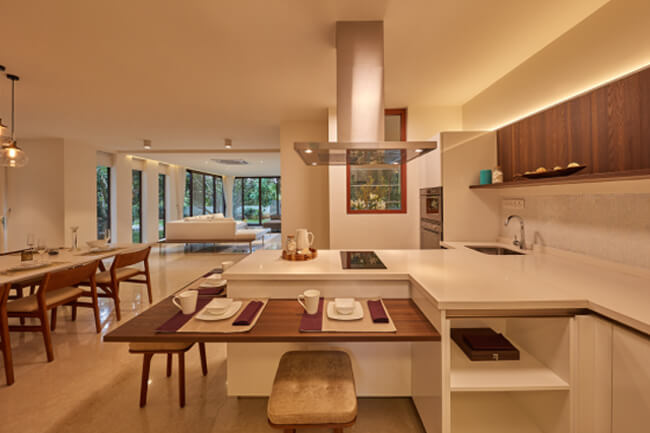 With the varying school and job timings in a household, the only downtime that the family gets to be together is limited so to make it count, you should have a common family room where the whole family can affirm bonds and spend some quality time.
This family room should be the heart of your home and within easy accessibility, especially with regard to the kitchen. This enables the mother to watch over the kids and keep the communication going while she cooks. There are many aspects to a family room which you need to keep in mind when designating a room for such needs, upon buying a new home. Here are some of the key features of an ideal family room:
Location – The location of the family room is key to creating happy memories and moments to cherish. It should be such that all principle rooms lead towards it. There is no point in having it tucked away in some out-of-the-way corner. Having it close to the kitchen not only means that the family is more likely to hang out together, but also that those little tit-bits of finger foods that make gatherings more celebratory, are easily available too!
Simplicity – An ideal family room should be a flexible space that grows with the needs of a growing family. By keeping it simple with neutral shades means that you can always spike things up later with accessories suitable to the changing needs of your growing family. Going with stain-resistant walls and kid-proof fabrics also means easy maintenance of these rooms. And if you have an unadorned wall, you could use it for projecting films for those family movie-nights.
Furnishing – Since a family room should encourage kid's activities, you should have sufficient floor arrangements including comfy rugs and large throw pillows for lounging on. Informal furniture arrangements, a rocking chair and large coffee tables that encourage activities are ideal for this room. Dual-purpose furniture with storage compartments help in maintaining neatness here for easy stowing of toys and activity materials.
And when talking about family rooms, the 'Under the Sun' villas located in a verdant fruiting orchard at Devanahalli, Bangalore, come to mind. These luxurious villas are designed in harmony with the mango courtyards surrounding each home and are accommodative to the needs of a family. The private rooms are meticulously designed to converge towards the family spaces which have outdoor extensions towards open green spaces. The free-flow designs of these villas are an inspiration for growing families. Find out more about them here: https://www.underthesun.co.in/