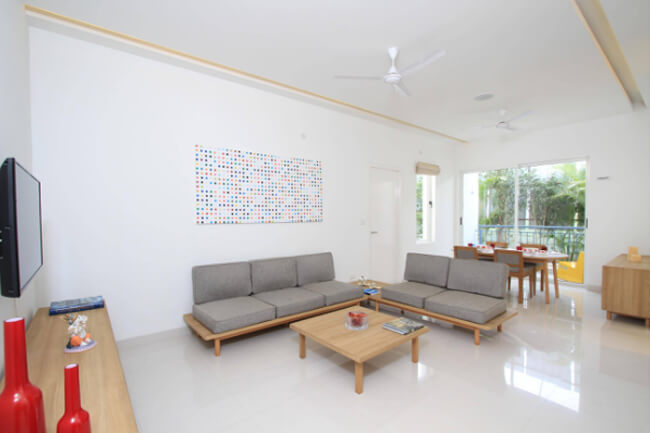 Everyone loves a spacious home, but with cities getting more congested, space is running out and homes are becoming smaller. Even though smaller homes look cozy and charming, they can be a challenge to decorate as you want it to look spacious too. However, there are always ways to make your dream-home spacious too. With a bit of skillful adjustments, almost every home can be made to feel more open and luxuriously airy. Here are some tips to unlock open spaces within the confines of your home to make it look more spacious:
-The first feature to deal with is the color palette. Light-colored spaces look larger and more elegant. Go with walls and floors that are painted in light hues of your favorite colors. Creating continuity in floor color between the various rooms also enhances the appearance of the room making it seem more spacious. A break in colors segments the floor into smaller spaces. The same concept goes with the walls of the home; the fewer the variations in colors, the better the visual continuity, thus creating an illusion of space.
-Bring in more light. Well-lit spaces look larger and more airy. Avoid going with cumbersome curtains or heavy drapes on your windows; go with translucent blinds in light shades instead as they will bring in natural daylight to liven up your interiors. The use of large mirrors is another elegant way of lightening up space while enhancing your décor. Mirrors create an optical illusion and are one of the best ways to expand space visually.
-Minimize space usage by creating storage spaces under your beds, under the coffee or side tables and using wall shelves for your display pieces. You could also create niches inside the walls and paint them the same color. The continuity in color will make them unobtrusive and leave the size of the room unaffected. Avoid buying large furniture and over-sized sofas as they will cramp your spaces.
-When tiling your bathrooms or kitchens, go all out and tile all the way to the ceiling. This creates an impression of the much-needed space and height. Remember to go with lighter shades as they provide a feeling of openness. Installing svelte sliding doors in place of regular doors also creates visual continuity and fluidity of space.
And if space crunches in city apartments bother you, then check out the spacious Fortius Waterscape apartments in the Krishnarajapuram area of Bangalore. These luxurious apartments have been meticulously designed to throw up lots of open spaces. Get more information here: https://www.fortiuswaterscape.com/