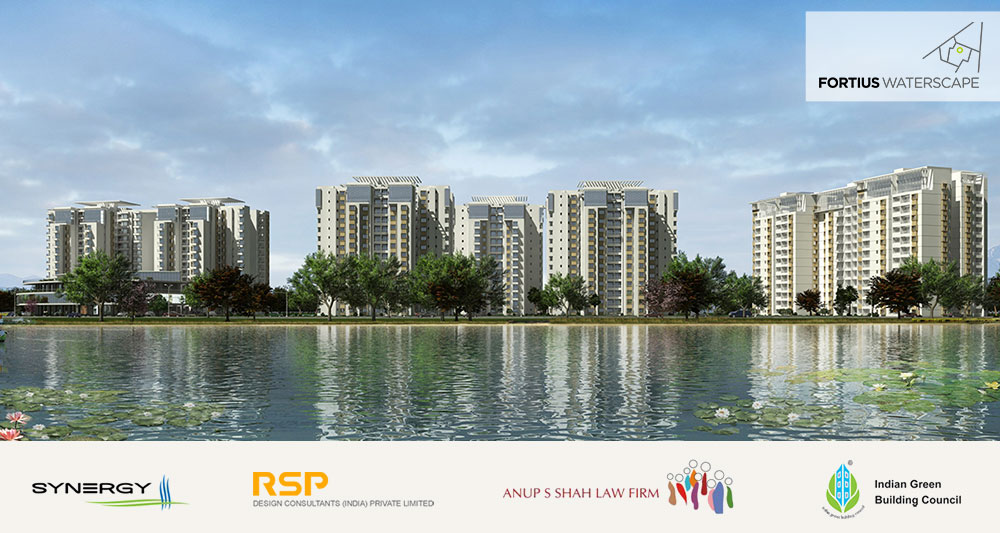 Our maiden project, Fortius Waterscape, has some of the most acclaimed names in the industry working seamlessly to create exquisite homes.
Fortius Waterscape is designed by the award-winning Design Consultants RSP India, managed by Synergy Property Development Services and is backed by the legal acumen of Anup S Shah Law Firm. Fortius Waterscape is a green project pre-certified by the Indian Green Building Council (IGBC).
Here is a glimpse of our Partners crafting your home at Fortius Waterscape
Design Consultant
RSP Design Consultants is a premier Indian architecture and design consultancy and an associate company of RSP Singapore, one of the largest and most reputed Architectural, Planning and Engineering Practices of South East Asia.
With its 400+ diverse, highly skilled, experienced and dedicated workforce RSP maintains high levels of professional standards and management controls to deliver excellence in design and construction.Their success stories span across verticals, and six decades of experience. They are the architectural pioneers who have designed ITPL (Bangalore), Cisco Campus (Bangalore), Microsoft Campus (Hyderabad), Wockhardt Hospital (Mumbai), the Oberoi (Gurgaon), to name a few.
Project Management
Synergy, India's largest real estate project management company with over 1000 engineers. Their 'first-to-last' approach is what sets them apart. With offices across India, Middle East, Far East and Africa, Synergy has delivered more than 120 million sq ft of high quality built-up spaces to global clients across commercial, retail, health care, hospitality and residential verticals.
Legal Advisors
Anup S Shah Law Firm is one of the most prominent law firms in South India with primary focus on real estate industry. The firm was established in 1993 by its founder, Anup S Shah, who is described as "a lawyer of high competence and even higher integrity", the two fundamental principles on which the firm has evolved over the years.
Green Building Associate
IGBC has been spearheading the green building movement in India since 2001. With over 2,635 green building projects and a footprint of over 2.10 billion sq ft, the IGBC rating is the most recognized rating program in the Indian real estate industry. IGBC has awarded Fortius Waterscape a Pre-certified Gold 'Green Home' Certification.